The Game Boy Color was the first major upgrade to the Nintendo Game Boy. It featured 15-bit colored graphics, faster processor speed, and more RAM and VRAM. It was backward compatible, able to use the existing Game Boy games, as well as the new line of games.  It was released in 1998 and discontinued in 2003. 
The Game Boy Color took two AA battery's. The controls were the same as the Game Boy. Popular game titles are Mega Man, Kirby and Mario.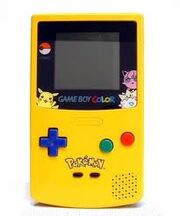 This is the first Game Boy system in the Game Boy line to have color.
Ad blocker interference detected!
Wikia is a free-to-use site that makes money from advertising. We have a modified experience for viewers using ad blockers

Wikia is not accessible if you've made further modifications. Remove the custom ad blocker rule(s) and the page will load as expected.