Unlike the Game Boy Camera, the Game Boy Printer comes in only business-like grey (see to the right) or a stylish Yellow Pikachu version (see below).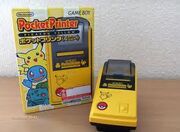 It also prints images from compatible       late-generation Game Boy and Game Boy Color games . It runs on six AA batteries and uses a special 3.8 cm wide thermal paper (which means you don't need ink) with adhesive backing called Game Boy Printer Paper.  
Ad blocker interference detected!
Wikia is a free-to-use site that makes money from advertising. We have a modified experience for viewers using ad blockers

Wikia is not accessible if you've made further modifications. Remove the custom ad blocker rule(s) and the page will load as expected.