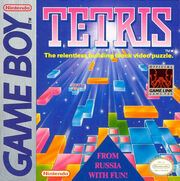 Tetris (テトリス Tetorisu?) is a puzzle video game for the Game Boy released in 1989. It is a portable version of Alexey Pajitnov's Tetris and it was bundled in the North American release of the Game Boy itself. It was the first game compatible with the Game Boy Game Link Cable, a pack-in accessory that allowed two Game Boys to link together for multiplayer purposes. A colorized remake of the game was released on the Game Boy Color entitled Tetris DX (テトリス デラックス Tetorisu Derakkusu?). Game Boy
Ad blocker interference detected!
Wikia is a free-to-use site that makes money from advertising. We have a modified experience for viewers using ad blockers

Wikia is not accessible if you've made further modifications. Remove the custom ad blocker rule(s) and the page will load as expected.